Your Pediatrician's Guide to Halloween: Trick-or-Treating Safety.
Mummies and monsters are the least of your worries on Halloween when cars, costumes, COVID-19, and stranger danger can give you a fright. To keep Halloween on a sweet note, a little preplanning and precaution can keep each family member safe and smiling. Before your big night out, review our pediatrician-approved list of Halloween safety tips.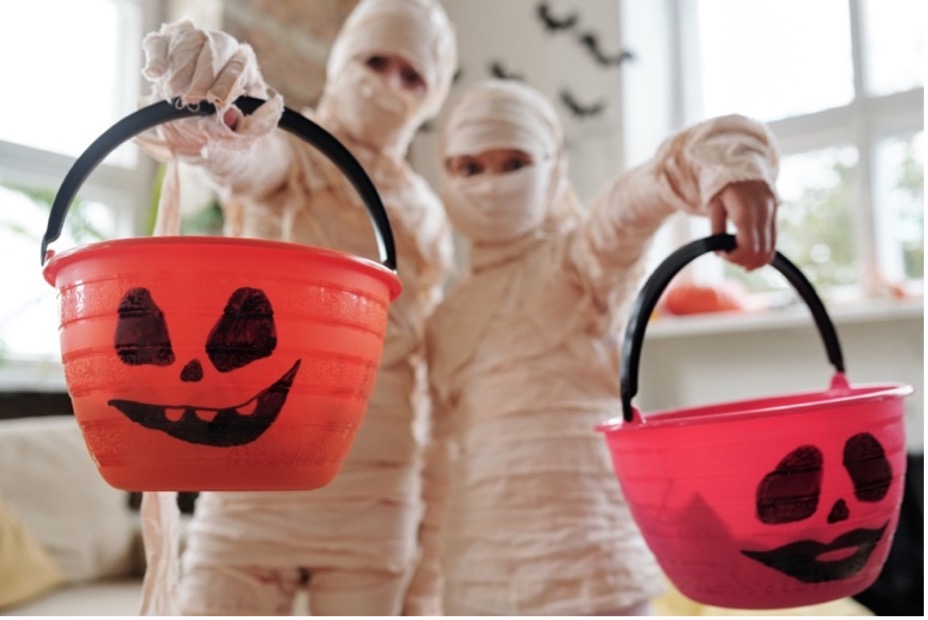 Costume Safety
Plan eerie-sistible costumes that are bright and reflective. 
A bright-colored costume will make your child more visible at twilight. Decorate the outside of your child's outfit and trick-or-treat bag with strips of reflective tape. Consider having your children wear glowsticks as bracelets or necklaces to keep it bright.
Check that costumes are easy to walk in and don't restrict breathing or vision.
Test out costumes before the big night and ensure they are short enough to prevent tripping and entanglement. We recommend costumes having hems above the ground and allow for a full range of motion. Confirm hats and shoes fit properly so your little monster can see correctly and is comfortable on their Halloween journey.
Make certain accessories aren't a safety hazard.
If your child is going as a superhero, warrior princess, or anything with a pointy accessory like a broom or sword, make sure to choose one made of soft foam instead of hard plastic.
Look for "flame resistant" on the costume labels. 
Wigs, costumes, and accessories should indicate that they are flame resistant. For homemade costumes, stay away from flammable fabrics such as nylon and polyester.
Look for nontoxic makeup and face paint. 
Nontoxic makeup and face paint are excellent substitutes to costume masks that are known to restrict vision. Test makeup ahead of time on a small patch of your child's skin to guarantee there are no allergic reactions.
Prepare for the unexpected.
Put a nametag on your child's costume along with your phone number and address. Make sure they know where the nametag is in case your child is separated from their group.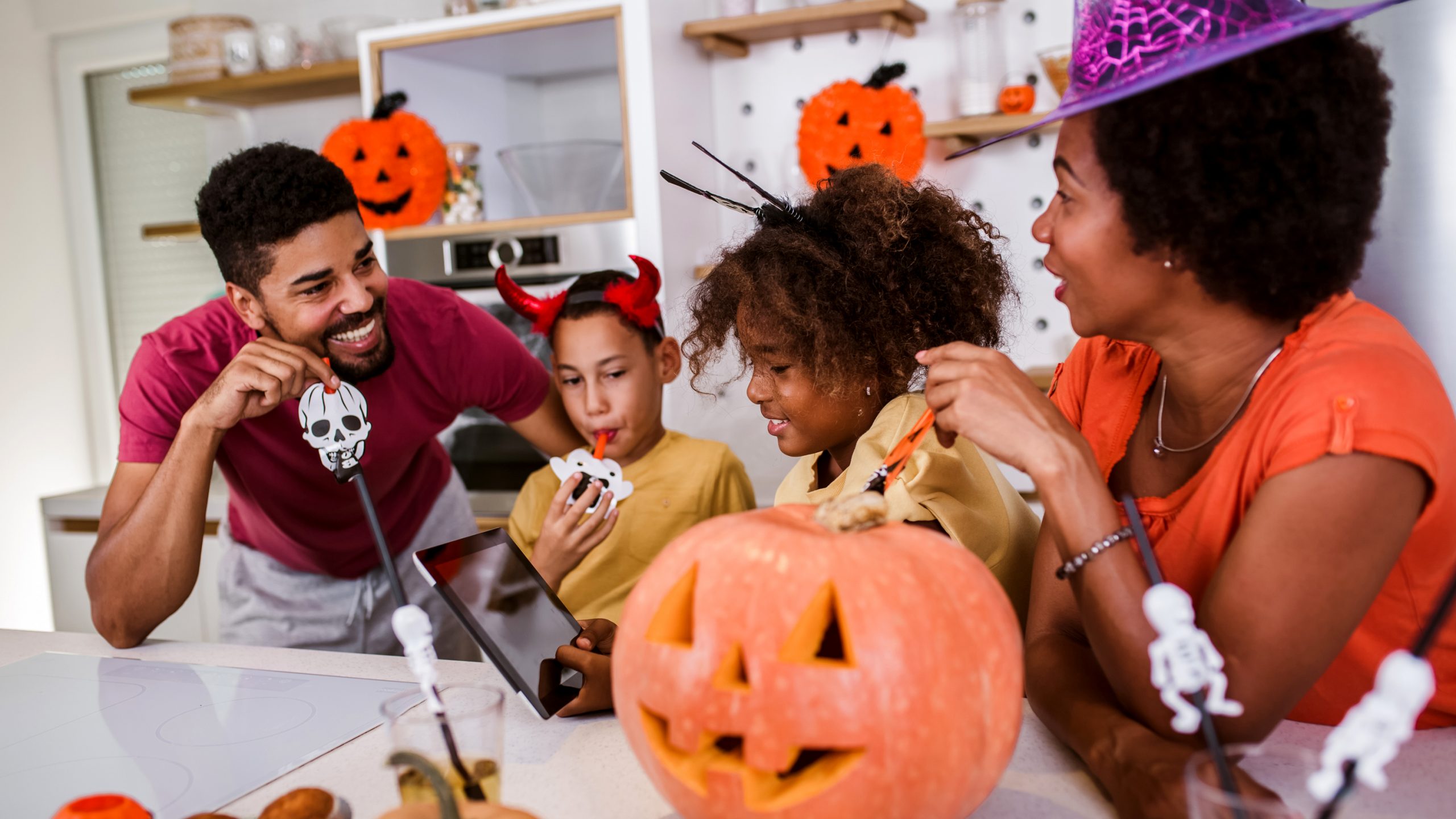 Street Safety
Watch out for your little pumpkin.
An adult should accompany children under 12 years old trick-or-treating. Before heading out, review how to call 911 in case of an emergency. While trick-or-treating, your child should know to look twice both ways before crossing the street and continue to look as they cross.
Set expectations with older children.
Teamwork makes the scream work! Make sure your child is in a group of at least three friendly ghosts and only travel to homes with a porch light on. Before sending them on their way, plan and review a trick-or-treating route that is acceptable to you. Agree on specific times when your child should check in throughout the night and return home. Don't forget to send them with a fully charged cell phone for quick communication and flashlights!
"Witches know how to drive stick"– Pedestrian safety. 
Pedestrian injury is the most common injury to children on Halloween. Remain on well-lit streets and always use the sidewalk. If no sidewalks are available, remind your witches and warlocks to walk on the far edge of the roadway facing traffic and in a single file line.
Candy Safety
Keep an eye on what your trick-or-treater has in their mouth at all times.
Hard candies, popcorn, and gum can be choking hazards for small children. If your child has allergies that need an EpiPen, bring it with you. For those with older kids, teach your child's friends how to use it in case of an emergency.
Beware before goblin.
It is always a good idea to inspect your child's treats before letting them "bone appetite!" Throw away any spoiled, unwrapped, or suspicious items.
Treat yourself for the days and weeks following Halloween and try to ration candy. 
Set realistic, positive guidelines with your child so everyone knows what to expect after the holiday. It's also an excellent opportunity to teach your goblins about moderation and healthy eating!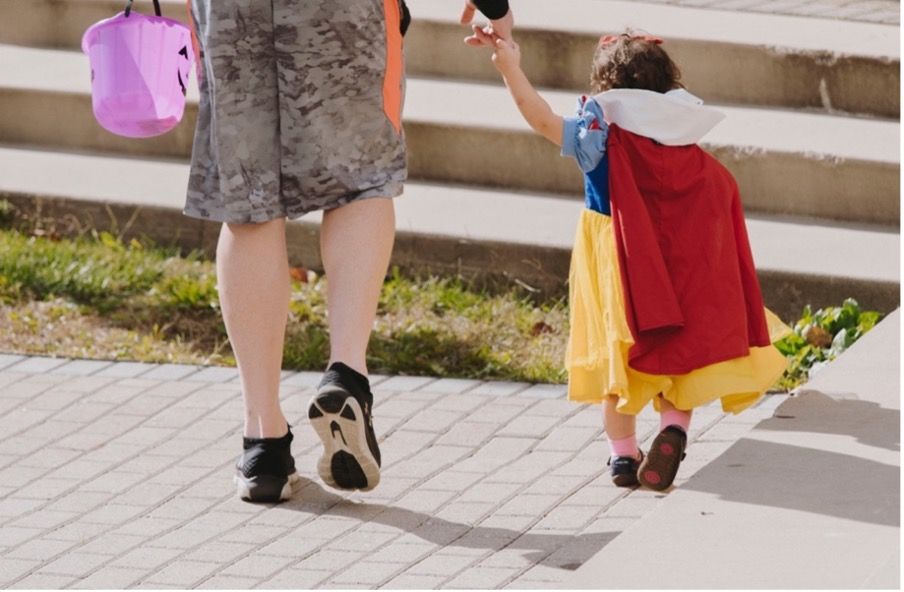 COVID-19 Safety
Squad ghouls, but keep them small!
Stick to outdoor Halloween events and trick-or-treating with small groups. Ensure your children know to avoid large clusters of kids at doorsteps. Encourage your kids to incorporate their face mask into their costume or dress up as something that uses one. Apply hand sanitizer when going from house to house, or when you are in contact with an individual that is not a part of your immediate family.
Fairhope Pediatrics wishes you and your family a fang-tastic Halloween! 
https://fairhopepeds.com/wp-content/uploads/2021/10/Picture1.jpg
620
928
Sarah Grube
/wp-content/uploads/2021/01/FairhopePediatrics_RGB_Logo_Teal_Horizontal.png
Sarah Grube
2021-10-21 00:33:50
2021-10-21 00:34:15
Your Pediatrician's Guide to Halloween: Trick-or-Treating Safety.